E-Hobby Crystal Hotrod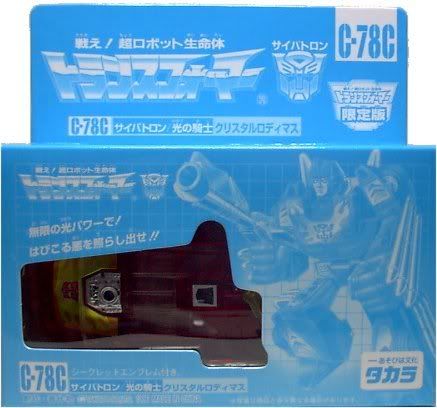 This here is an E-Hobby, Clear Crystal version of G1 HotRod. Ofcourse it is not made of clear crystals... but rather it's basically clear colored plastics. This figure was released as a set of 2 exclusive E-Hobby HotRod's back in 2001. The other Exclusive HotRod figure that comes along as a set with this is a "Black HotRod"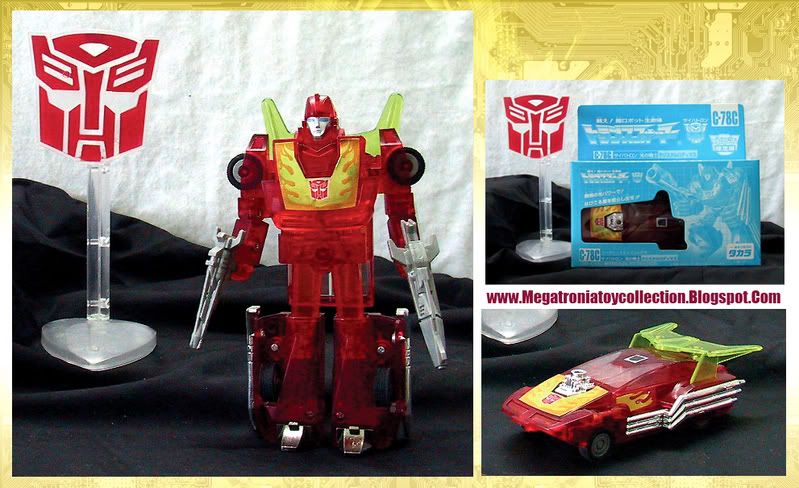 I got this figure in 2002 on an online auction together with the original reissued HotRod. Unfortunately, i was unable to secure the black version as i am a big fan of TF's that are repainted "Black" hehehe... But nonetheless, this figure remains as my fav among the three HotRod's i have. There's something really cool about a clear version of a toy... and eversince it's success, Takara have been churning out "Black" and "Clear Crystal" version of TF toys as exclusives.
The tech spec translation obtained from http://www.tfu.info/2001/Autobot/HotRodClear/hotrod.htm reads...
..."His life targeted by Black Rodimus, Hot Rodimus escapes into the legendary cavern known as the Crystal Cave. Just as he is cornered, the power of a crystal fountain spouting at his feet changes him into a crystal-coated form, and limitless light flows out from within him. Bathed in that light, Black Rodimus finds the evil heart implanted within him by Megatron expunged, and he is reborn as a heroic Cybertron
warrior."...
Hot Rod's Comparison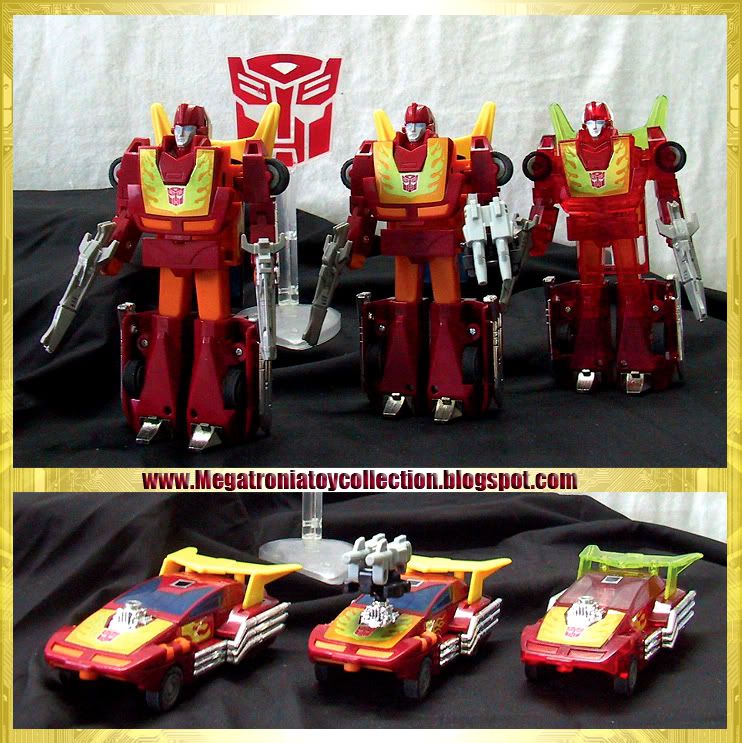 Nothing much to say really as this is basically a straight copy of g1 HotRod mold except for the fact that's made of clear colored plastics... The pics above are for reference purpose to highlight the minor differences among the 3 HotRod's... but it's pretty cool posing all 3 of em together huh? hehehe :P
Cheers!!!
N_M